Artist
Myriam Mechita
's work is grotesque, gorgeous, fascinating, and repulsive all at the same time.
A recent exhibit with fellow artist Gregory Jacobsen's
press release
stated:
Organs, entrails and genitals leading a life of their own, heaps of flesh interacting with creatures with mask-like faces, fleshy and wrinkled skin and open wounds, which, despite bearing human traits, look as though they had escaped from our worst nightmares. Shining strings of pearls are flowing from a deer's open neck, as though the animal's bowels were spilling onto the floor, intertwining and forming mysteriously glittering shapes.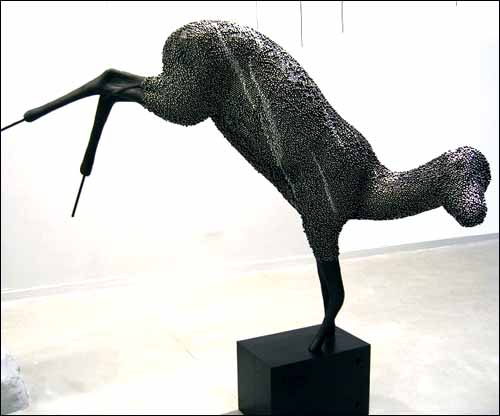 Now that is an introduction! This same press release eloquently commented on how Myriam's work is like the moment between the flowing of life, caught at a stillness. And his work is very much in this space, as the work often alludes to a moment of action or movement or loss it is also totally stagnant and paused in a moment of utter stillness.

Myriam generally works with animal forms and bodies, specifically the deer, as his initial subject and medium, often with their guts made of colorful beads spilling out of them into a gorgeous and bizarre mess.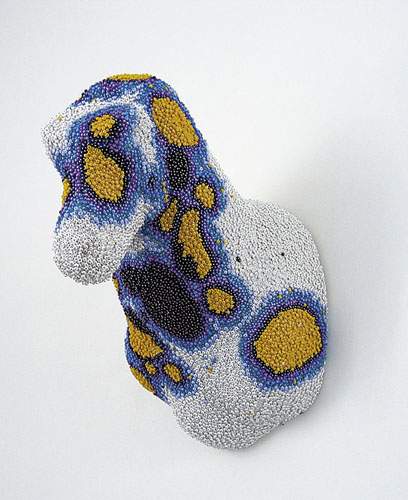 Though one can find a number of images of Myriam's work online there is little written about him in English so I have yet to find any statements or quotes from Myriam himself to give more context and content to the bizarre, shiny, bead filled, other world that he creates. But needless to say I am intrigued.