Sandrine Pelletier
is an artist who explores fiber and embroidery amongst many other mediums to make super lovely work. Her hand and technique is gorgeous! And she so has a way with text. I can never deny my love for language and humor.
Based on a
press release
Pelletier is exploring memories and artifacts of childhood and fables in her work.
She has sited popular culture, Jim Henson, traditional craft books, and the surrealists as inspiration.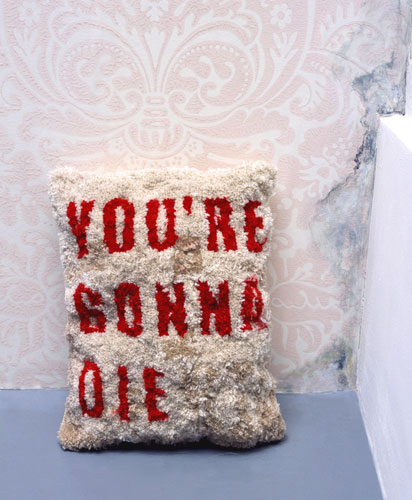 I enjoy how her work through materials and subjects have a sweetness but in execution is often fractured or even nightmarish.
Her subject, mode of installation, and love of the dangling thread remind me of the wonderful french artist Annette Messeger.
There is little of her actual voice on the Internet and I so wish I could hear her talk more about her concept and approach to making, especially since it is so varied. I like to be able to make some cohesion in an artist's greater body of work and without any statements or interviews I am not sure how to connect some of the pieces to others.
But her quilts are gorgeous!
There are
tons of images
of her work online from various sources. In general I find her work and exquisite technique very inspiring.