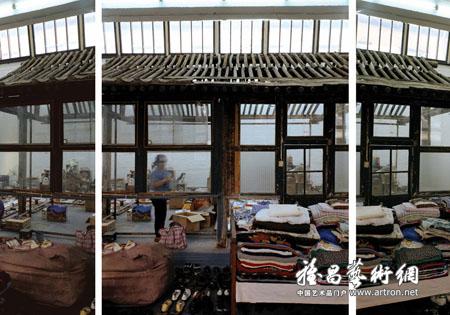 I was oh so excited because I was planning on going to the
MoMa
this afternoon and seeing the fascinating and oh so exciting installation
Project 90
by Beijing artist Song Dong. But luckily I double checked the MoMa's hours and they are closed on Tuesday's instead of Mondays. So the good thing is I did not dredge all the way to midtown in rain and drear- the bad is I must wait to see this exciting installation. I am planning on going next Monday.
Project 90 shows the entire contents of Song's childhood home during the period in Chinese culture where "waste not" was a method of survival. As a collaboration with his mother we see the multitude of items saved over her lifetime from beautiful, to practical, to broken, to useless.
The objects range from pot and pans to personal and traditional items. All meticulously laid out to create a quilt of textures and color. A deep exploration into the everyday object. It reminds me of a number of Chinese photographers who also lay out items in this way to document the objects in their lives.
Read this excellent and brief review of the show
here.
The work is fascinating in that the idea of having to save everythign in order to survive is so alien to our wealthy and consumer based culture. Yet we see an epidemic in American culture in which people save and hoard things none the less. I very much look forward to seeing thiw work and observing the thoughts and emotions it brings up in me.
Next Monday.