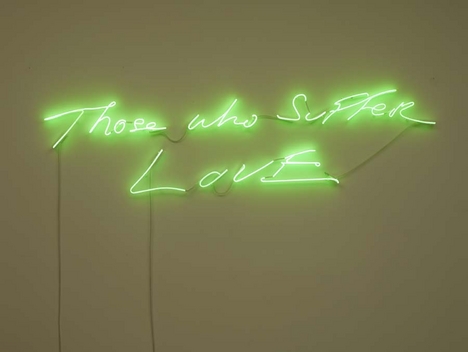 I just recently read a review on the current show
Those who Suffer Love
at White Cube Gallery in London on the new work of
Tracey Emin
and wished that I could drop in and see the show. As always Emin's work shocks, creates discomfort, and moves you from within your soul.
I greatly admire the courage and gall of Emin to create such overtly provocative art and to do so in a way that has kept her relevant for over 25 years. And it seems that her show at
White Cube
proves that she still has much to say, or scream.
The center piece of the show is a 1 minute animation featuring her trademark drawings of woman masturbating. A conflicted view of female sexuality- something most modern women can relate to.
Also included are some
neon works
and prints.
In the press release Emin states:
The title for my show is self-explanatory: love rarely comes easily and if it does, it usually goes quite quickly. And there is death, and loss, which at some point in our lives we all have to deal with. I'm constantly fighting with the notion of love and passion. Love, sex, lust – in my heart and mind there is always some battle, some kind of conflict.
Seems that no new fiber works were included but they are always an inspiration to see.
The show coincides, quite intentionally, with the release of a giant
new monograph
on Emin's work. Something definitely for my Christmas list.